Tunku Ismail Idris ibni Sultan Ibrahim Ismail (born 30 June 1984)
is the Tunku Mahkota of Johor (Crown Prince).
Tunku Ismail is the eldest of six siblings and son to
the current Sultan of Johor, Sultan Ibrahim Ismail and his consort Sultanah Zarith Sofiah Sultan Idris Shah.
Tunku Ismail was appointed Raja Muda on 8 April 2006 by his grandfather, the late Sultan of Johor, and placing him second in line to the throne.
Tunku Ismail was proclaimed as the Tunku Mahkota of Johor on 26 January 2010 at Istana Besar and become the first in line to the throne.
Tunku Ismail aspired for a career in the Indian armed forces. In July 2003, he enrolled as a cadet officer in the Indian Military Academy (IMA), India's premier military training school located at Dehradun. He was commissioned as a lieutenant in December 2004 and absorbed into the Indian army. He was promoted to the rank of captain in December 2007. He is the first ever Malaysian royal to join the Indian armed forces.
The Malaysian prince is the first foreigner to lead a unit of Indian Army in the Indian Republic Day Parade. On 26 January 2007, with a rank of captain in Indian Army, he led a mounted column of Jaipur based 61 Cavalry regiment to salute president of India Dr. A.P.J. Abdul Kalam during the Republic Day celebrations The president himself chose Tunku Ismail to lead the unit of around 400 men of the world's only non-ceremonial horse-mounted cavalry. The parade was witnessed by chief guest of the day president of Russia Vladimir Putin and his entourage, along with other dignitaries of Indian politics and military amidst tight security. Tunku Ismail's father Tunku Ibrahim Ismail flew in from Johor Bahru on 23 January 2007 to be present at the celebrations while his son added a chapter to the history of Indian Army.
A polo enthusiast, Tunku Ismail is a skillful horse rider. He was bestowed the Best in Riding award among IMA cadets for year 2003-2004. He is also a polo player for his regiment and has won many trophies.
Tunku Ismail was conferred
Darjah Mahkota Johor Yang Amat Mulia Pangkat Ketiga Setia Mahkota Johor (SMJ) in 2004.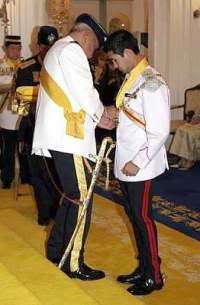 He was bestowed Darjah Pangkat Pertama Darjah Mahkota Johor Yang Amat Mulia, Seri Paduka Mahkota Johor in the following year.