Pahang Royal Family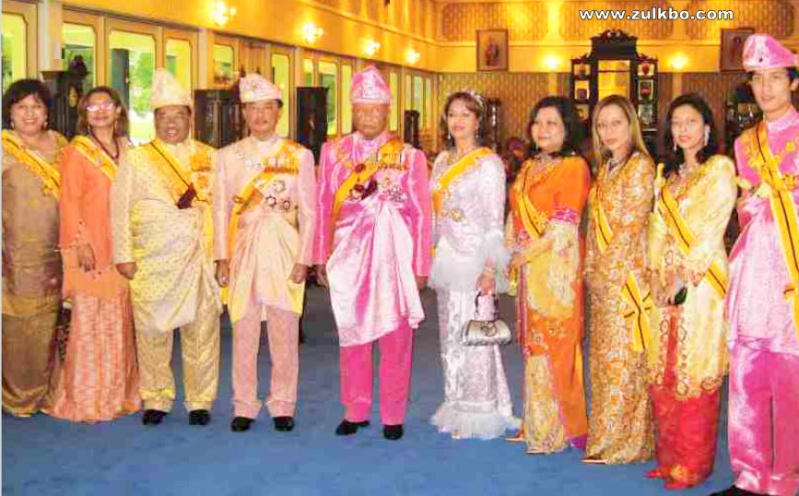 (From left)
Tengku Shahariah,
Tengku Muhaini,Tengku Abdullah,
Tengku Meriam, Sultan Ahmad Shah, Tengku Abdul Rahman,
Tengku Aishah Marcella and
Tengku Nong Fatimah.
Sultan of Pahang
HRH Sultan
Haji
Ahmad Shah ibni
Almarhum Sultan Abu Bakar Riayatuddin Shah
married with
Former Tengku Ampuan Pahang
Tengku Hajjah Afzan binti Tengku Panglima Perang Muhammad
and blessed with 2
sons and 5 daughters
3.Tengku Aishah Marcella (1957)
4.Tengku Abdullah (1959),Crown Prince of Pahang
Tengku Abdullah was married to the daughter of the previous Sultan of Johor, Tunku Azizah. The royal couple was blessed with 5 children, three princes and three princesses. He married an actress, Julia Rais and they have 3 daughters.
5.Tengku Abdul Rahman (1960), Tengku Muda
Tengku Abdul Rahman was married to Cik Puan Muda Julita Aishah. The Royal couple has three children, two princes and a princess
6.Tengku Nong Fatimah (1962)
7.Tengku Shahariah (1964)
Sultanah of Pahang
Sultanah Hajjah Kalsom binti Abdullah
Tengku 'Abdu'l Fahad Mu'adzam , Tengku Arif Temenggong
Tengku Fahad is the youngest son to the Sultan of Pahang and pursuing his studies at Eton College.